vLab Remote Lab Web Portal Access Connectivty Test
Lab remote access labs are accessible using standard web ports through our Lab Access Web Portal.
This approach offers many advantages including:
Access is via HTTP port 80 or HTTPS port 443 only. Non-standard ports are used/required
Usually, no changes are required to access our labs through highly restricted corporate firewalls or via Web proxies
Access can be performed from any HTML 5 compliant device. This includes tablets, notebooks and other devices
Our Lab Access Web Portal offers the following benefits:
Students access their Lab through Console 0 of a Windows Server Virtual Machine. Since you always (re)connect to Console 0, you don't have to worry about reconnecting to a dropped session
Instructors can perform full session shadowing and interaction on all student remote Lab Access VMs. Instructors and students can share the student's session. Instructors can take over a remote session and guide students through problems.
This document provide guidance and suggestions for performing a pre-class server pod connectivity test and also for resolving server pod connectivity problems.
Student Desktop PC/Notebook/Tablet Requirements
You access our remote server pods from desktop PCs, notebooks or tablets running any modern operating system . You will need:
One PC or tablet for each attendee and an additional PC for the instructor
An HTML 5 compliant browser (e.g.: recent FireFox, Internet Explorer 9+, Safari or Chrome. IE 8 or older does not work.
Linux will work if you have FireFox installed
Safari on Apple Mac OS/X will work
Student and instructor PCs must support 1280x1024 or higher native resolution video.
Retina displays, 1080p displays or 1600x1050 resolution displays are encouraged.
Devices with just 720p (approx 1300x768) or lower resolution are not suitable as our remote desktops require more resolution
The ability to browse the Internet
Please keep in mind the following when attempting to connect to our Remote Lab Web Portal:
You must have a reliable Internet connection. This means speeds of 2mb/s (up and down) or better with low latency and very low packet loss.
Cellular data networks are not recommended and may lead to session disconnects
Heavily loaded Internet connections are not recommended and may also lead to session disconnects
To check your network upload/download speed and latency, please visit www.speedtest.net
Performing a Connectivity Test
To test connectivity to our remote access server pods, please contact vlab.pro for the following information:
The Web Portal Login name: ________

The Web Portal Password: _______
Launch an HTML 5 compliant browser and browse to portal.vlab.pro. You should see: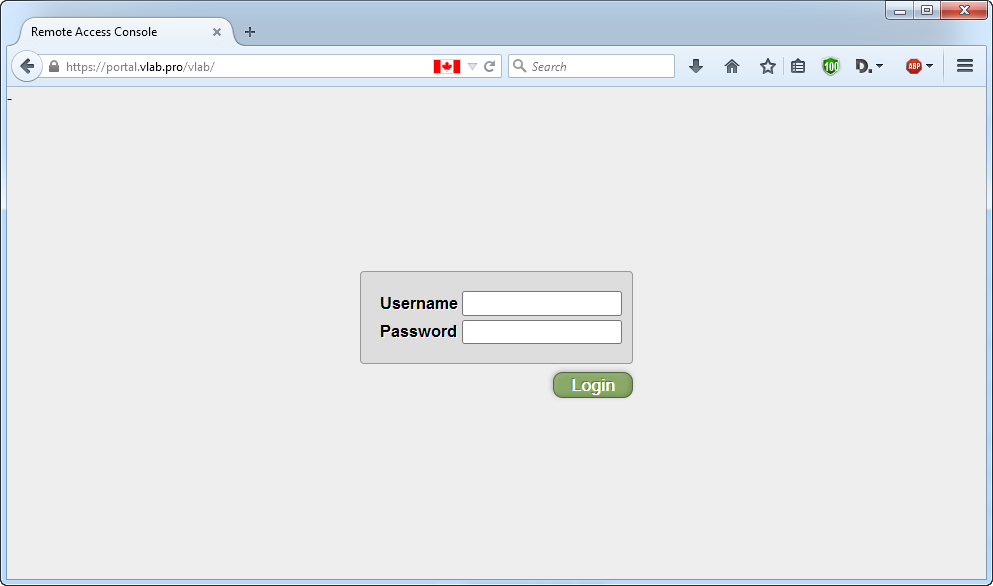 Enter your Login name and Password (from above) and click Login.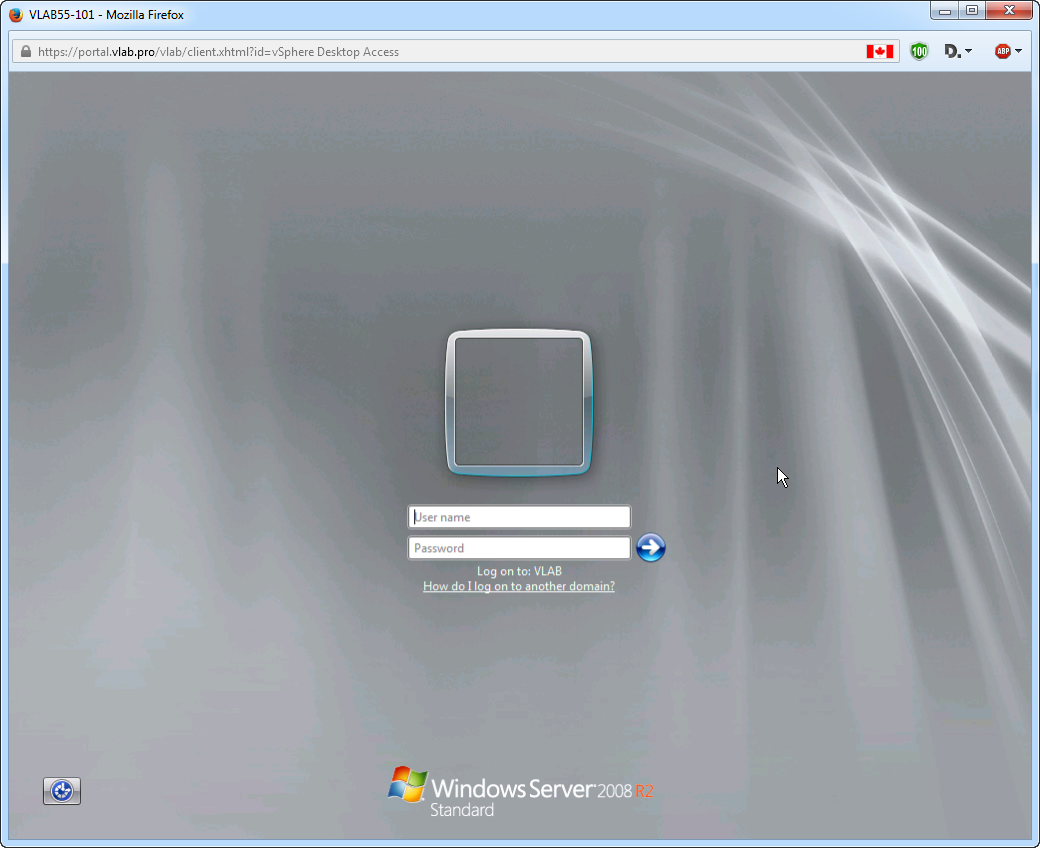 Finding Your Credentials
Your domain credentials are placed on a yellow sticky note on your remote lab portal: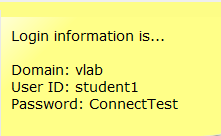 Accessing Your Remote Windows Desktop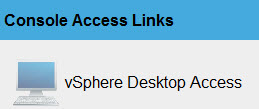 Access to your remote Windows Server 2008 R2 desktop is done by clicking the vSphere Desktop Access icon. This will pop up a Windows session in a browser window.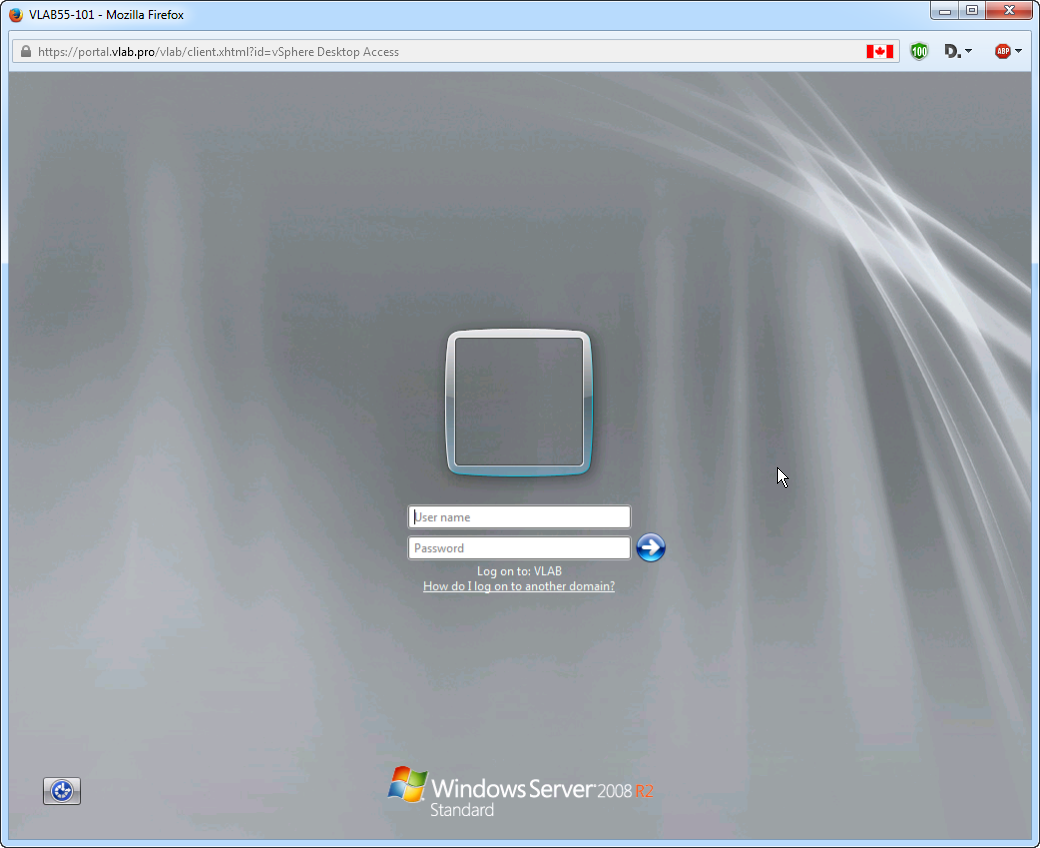 Click in the pop up window and log in with your domain credentials (from the Yellow sticky note). Once logged in, you should have full control of your Windows Server 2008 R2 desktop.
This completes your remote lab access test. To clean up, please:
Log out cleanly from Windows (don't just close the pop up)
Close the Windows pop up
Log out of the portal by clicking the Logout button in the upper right hand corner of your web portal page
Student Handout
We provide a detailed Student Handout that should be consulted when working through our labs. We include both introductory notes and guidance for each lab in the course. Please consult this PDF at the beginning of the class and before starting each lab:
Reporting Results
We encourage customers to run the above tests at the earliest possible opportunity and to correct any deficiencies discovered. A failure to complete these tests could result in an inability to connect to our remote access labs at the start of your class. We will not be held responsible for such problems.
Please report your results back to your partner at the earliest opportunity. They, in turn, will inform us that you are ready to go.